Financial Wellness Programs and Creating a "Stay Strategy" for your District
Date posted
February 22, 2023
Financial Wellness Programs and Creating a "Stay Strategy" for your District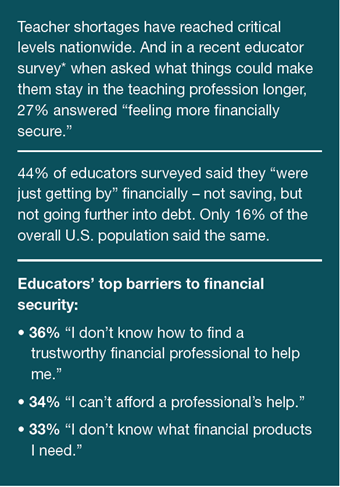 We all know educators don't go into the profession for the money. They do it because it's a calling. But that doesn't mean they can't experience financial peace.
Financial wellness programs can help your employees improve their financial well-being and get them on a path toward a brighter and more appealing financial future. By offering financial wellness programs, it can help you attract, support, and retain quality full-time educators and staff.
Here are some topics to consider for your financial wellness program that can enhance financial literacy with your educators, help them have confidence in their financial decisions and
promote their overall financial wellness.
Fundamentals of financial wellness – How to establish and maintain good credit, how to create a monthly budget and the importance of saving early to benefit from the power of compound earnings.
Financial success for women – Help empower your female workforce through financial education focused on their unique circumstances, which are often different than those of their male colleagues.
Student loan debt relief – Help employees manage student loan debt and apply for federal loan forgiveness.
State Teacher Retirement – Help staff understand their State Teachers' Retirement System and show them how supplemental retirement plans can complement their state benefits to build a strong financial future.
Retirement strategies – Help staff understand the provisions, benefits and availability of a 403(b) plan including information on how saving a little more today may help build a better tomorrow.
DonorsChoose – Help teachers learn how to use DonorsChoose to get their classroom projects funded. DonorsChoose is a not-for- profit organization that connects teachers in need of classroom supplies with donors who want to help.
Author: Horace Mann Educators Corporation
Website: https://www.horacemann.com/schools
Contact: Association.Relations@horacemann.com