Advocate '24
Lift the voice of all administrators during this legislative conference
---
Monday, January 22, 2024
to Tuesday, January 23, 2024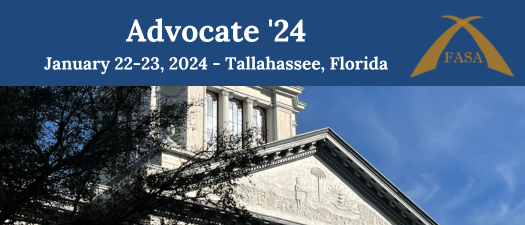 The Advocate '24 conference will be held January 22-23 in Tallahassee. Every member of FASA plays an integral role in the legislative process. We encourage you to join us for this event and help ensure the voices of Florida's administrators are heard.

Advocate is one of, if not the most important events we host. Your voice is more important than ever, and we want to help you reach your representatives and participate in the legislative process so we can effect positive changes in your school, district, and our great state of Florida.
Registration Prices
In-person Registration - $50.00
​*Advocate registrations include the briefing (City Hall Commission Chambers) as well as a reception (location TBD) in the evening.
Agenda
January 22
7:30 AM - 9:00 AM

Registration Opens


City Hall
8:00 AM - 9:00 AM

Breakfast with Hotel Reservations at Hotel Indigo

9:00 AM - 12:00 PM

Legislative Forecast & Briefing


Commission Chambers City Hall
12:00 PM - 1:00 PM

Lunch on your own

1:00 PM - 5:00 PM

Legislative Visits


Florida Capitol
4:30 PM - 6:30 PM

FASA Legislative Reception


TBD
January 23
8:30 AM - 4:00 PM

Board and Committee Mettings
Hotel Reservations
This event will be held at City Hall, Tallahassee. The special rate for this event at Hotel Indigo with breakfast included is $214/night. You will receive your breakfast voucher at check-in.
A link for hotel reservations will be emailed once your conference registration is complete. If your school district is paying for your event, you may not receive the hotel link because registration is invoiced, please contact Amy Coleman at acoleman@fasa.net for the hotel link.
The room block is open until January 2, 2024.
Cancellation Policy:
Cancellations must be in writing before 5:00 p.m. on Thursday, January 11, 2024, to receive a refund of your registration fee, minus a $30 processing fee. Fees cannot be refunded for registrations canceled after Thursday, January 11, 2024, or for no-shows, however, substitutions can be made in writing to acoleman@fasa.net.
For More Information: